Recipes
Indian Spices
| | |
| --- | --- |
| Alsi | Flax seeds |
| Ajwain | Carraway seeds |
| Dhania | Coriander seeds |
| Dhania Patta | Coriander leaves (Cilantro) |
| Dal Chinni | Cinnamon |
| Elaichi | Cardomom |
| Ghee | Clarified Butter |
| Haldi | Turmeric Powder |
| Hing | Asofetida |
| Imli | Tamarind |
| Jeera | Cumin Seeds |
| Jaiffal | Mace |
| Javitri | Star Anise |
| Kesar | Saffron |
| Long | Cloves |
| Methi | Fresh Fenugreek |
| Methre | Fenugreek Seeds |
| Raee | Mustard Seeds |
| Saunf | Fennel Seeds |
| Tej Patta | Bay Leaf |
| Posto | Poppy Seeds |
---
Turmeric Recipes
(see the benefits of Turmeric on our Health page)
1. Alu Gobi (Potatoes and Cauliflower)
Chop very fine 2" fresh ginger
Cut potatoes in small pieces
Cut the cauliflower in equal size to match the potatoes
Cumin seeds 1⁄2 tsp
Turmeric 1⁄2 - 3⁄4 tsp
Salt to taste
Red crushed peppers (optional)
Black pepper and cilantro to garnish.
Place a non-stick wok/deep pan on fire. Add about 2 tbsp olive oil or vegetable oil. When hot add ginger. let cook for about 3-4 minutes until slightly brown. Add Cumin seeds. When they begin to splutter, about 5 seconds add the potatoes and cauliflower. Mix well so oil with ginger and cumin flavor covers the vegetables.
Add salt to taste, 1⁄2 tsp turmeric, 1⁄4 tsp red peppers crushed. Cover and cook on very low heat. After every five minutes uncover and mix well, to cook evenly. When almost done sprinkle chopped cilantro and black pepper. Cover and cook for another 3-5 minutes. Check to see the potatoes are well done. When cooked evenly cover and leave until ready to eat. Fresh Cilantro and black pepper gives a very aromatic flavor to the dish. Can be eaten with any Indian Roti or rice.
2. DAL (Lentil)
Red lentils – Masoor dal 1⁄2 cup
Yellow lentils – Moong dal 1⁄2 cup
1⁄2 onion chopped fine
one small tomato – finely chopped
Cilantro finely chopped
Cumin seeds 1⁄2 tsp
Salt to taste
Turmeric 3⁄4 tsp
Take equal amounts of both dals (lentils). 1⁄2 cup each. Wash well under running water until the water runs clear.
In a deep sauce pan add about 3 cups of water and let boil. After the first 5 minutes a white foam will float on top, with a slated ladle remove the white foam. Put salt to taste and 3⁄4 spoon turmeric. Place a lid and cover about 80 % of the pan. Leaving a little place for the steam to escape. Cook on low fire until the lentils are soft about 15 - 20 minutes. The water and the lentils should be well incorporated. Add more water if needed. If too much water let boil uncovered until the water reaches the right consistency ie thick soupy.
In a separate frying pan fry chopped onion in about 1 tbsp vegetable oil or olive oil. When pinkish brown add cumin seeds and let the onions get light brown. Add chopped tomatoes. Sauté when until onions and tomatoes are same consistency. Add cilantro, sauté for another 1⁄2 minute and add to the cooked dal. This final step is called TARKA. This tarka gives the final fresh taste to the dal. For added flavor can squeeze a little fresh lemon juice before eating.
Dals are high in protein replacing meat dishes for vegetarians. Best eaten with rice.
---
Myth About Indian Curry
Herbs - Spices - Chilies
Curry is not necessarily hot. It can be flavorful, aromatic and/or chili hot.
Curry actually means liquid. It does NOT mean hot spicy food. Any dish which has soupy consistency is a curry. Curry maybe made up of herbs, spices and chilies
Flavor comes from Spices- spices are dried herbs and seeds, cumin, coriander etc.Aroma comes from Herbs - fresh and green like cilantro, mint, basil etc.Heat comes from Chilies- Red, green etc. – use as much or as little as you want
Curry may be made of any one or two or all three of the above
Once you know the basic curry from North India you can make many dishes
This curry paste can be made and frozen for months in advance.
Basic North Indian Curry paste
4 onions
200 grams fresh ginger (4 Tbsp bottled paste)
1 pod garlic fresh (2 Tbsp bottled paste)
Chop all fresh ingredients coarsely in the food processor. In a fry pan or deep wok fry all three in about 3 Tb Sp olive or vegetable oil. Until dark brown evenly, not burnt. Will take about 20 minutes.
Add one small can tomato paste until well incorporated. You should be able to see the oil bubbling separately. Can be frozen at this stage.
When ready to cook (wok/deep pan) add this paste in 1 tb sp of hot vegetable or olive oil. Add one stick cinnamon, 2 pods black and 2 pods green cardamom, 2 cloves and 1 tsp cumin seeds (these are all spices). After about a minute or so add what ever you are going to cook in this paste (recipes given below). Add 1/3 tsp turmeric powder, salt to taste and red chili powder or paprika to taste. Sauté for about 5-8minutes until the paste is coating the item being cooked. If you like really hot and spicy curry can add 1⁄2 t sp Garam Masala extra (powdered spices all of the above available in Indian stores) Add water and cover to cook for about 20 minutes on medium heat, until the water is reduced and the curry is thick. Check to see if the item being cooked is soft and eatable. If too thick can add hot water, if too liquidly can cook uncovered until the consistency is right.
This paste is good for 2 cans of Garbanzo beans, or 2 cans of kidney beans or 2 cans of black eyed beans.
Vegetables that can be cooked in this paste are green peas with potatoes cut in small pieces or potatoes alone.
Chicken pieces or fish can be cooked in a similar way. Serve all these dishes with lot of chopped cilantro sprinkled on top as garnish.
Curries are best eaten with boiled rice or hot naan/roti.
Prayer beads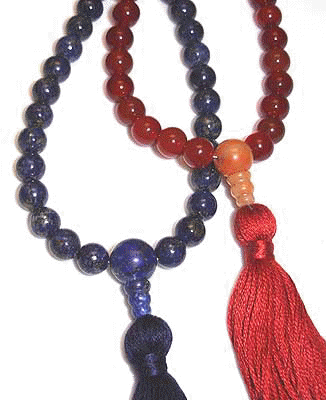 available soon